"With my expertise and my long experience within the industry, I bring to you and your Home an unparralleled understanding of space and scale, my knowledge of furniture, materials and patterns, unlimited sources and the creativity with a 360º state-of-mind needed to design bespoke products – behind the aesthetic simplicity of my designs lies utmost passion and precision."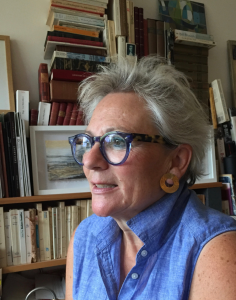 From an early age, Muriel had developed an interest in design, architectural lines and interiors – she started drawing, decorating and designing in France in the 90's. During the course of the past 20 years her practical, logical, technical and decorative senses became even stronger when she embraced the British interior design world and more recently when she happily and successfully ran for several years the Interior Decoration service at Colefax and Fowler, in London, before setting up as a freelance interior designer & decorator.
Muriel a peaufiné  -au fil des ans- ses méthodes pratiques, logiques et techniques et au cours des 15 dernières années, elle a approfondi sa perception de l'espace, du détail, des couleurs, des matières et des motifs pour une combinaison élégante guidée par l'expérience acquise au sein du "British Interior Design Industry" et tout particulièrement plus récemment lorsqu'elle a dirigé un service de décoration chez Colefax and Fowler à Londres avant de s'établir à son compte.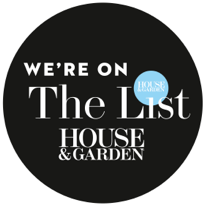 2018 Current works / Travaux en cours
Furnishing and re-decorating an 18th century chateau in Lubéron,
Project managing an on-going extensive renovation in a Tuscan palazzo and a Scottish country house,
Re-decorating a London mews house,
Re-designing the room layout of a country house in Normandie, project managing the works, assuming the decoration and furnishing,
Re-designing and furnishing a new restaurant and a sea-view chill-out space, creating a colonial salon and renovating existing accommodations in a Caribbean hotel to become 5-star graded.
Decoration et ameublement d'un chateau XVIIIeme dans le Lubéron,
Maitrise d'ouvrage pour la renovation complète d'un palazzo en Toscane et d'une maison de maître en Écosse,
Decoration d'un "Mews" à Londres,
Execution de plans pour nouvelle distribution des pieces dans une maison à colombages en Normandie – maitrise d'ouvrage, décoration et ameublement
Design et aménagement de nouveaux espaces de repos face mer et rénovation complète de l'hébergement en bungalows individuels, du restaurant gastronomique et des salons d'un hotel aux Caraïbes pour devenir 5 étoiles.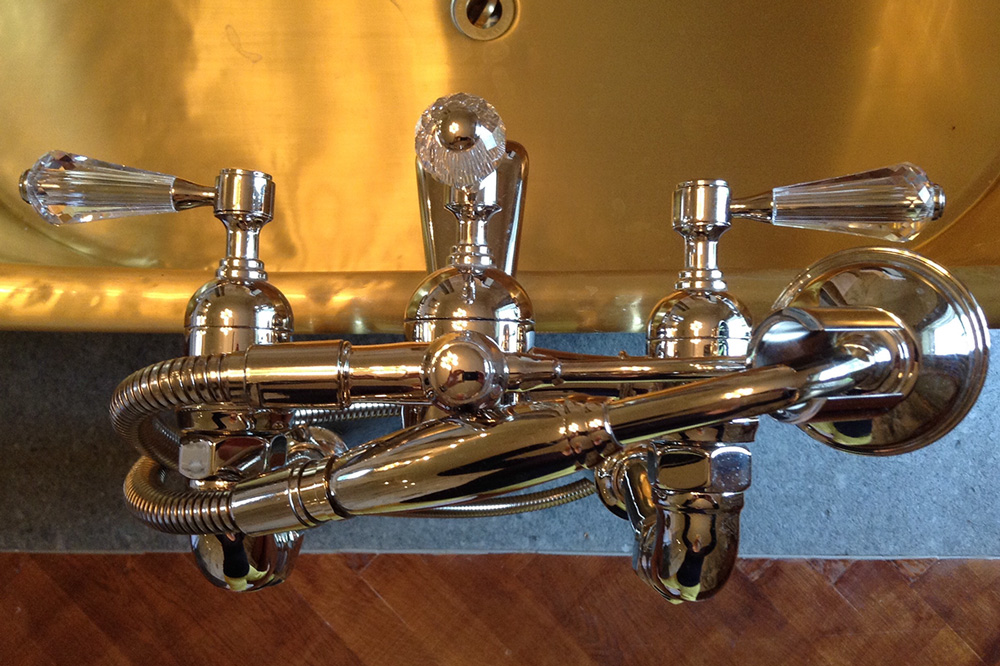 "Example of my work valiantly combining bespoke-made brass bath, polished nickel and cut rock crystal faucets, Welsh slate fitted flush with newly laid oak parquet"
Muriel will work with you to create ageless spaces for non disposable interiors: it does not mean her works get locked in an historical style – the beautiful interiors that she creates bear this classical sensibility often dressed with a contemporary edge: all unpretentiously luxurious.
Muriel comes with a network of very talented craftsmen and greatly reliable contractors from all decorative fields and building industries and as a Team, where needed, they project manage – in UK as well as on the international scene – for best coordination of works.
De la conception à l'installation, Muriel intervient à tout niveau pour une realisation sans encombre pour le client. Enrichie d'une longue experience, elle s'adapte à tous les projets: elle peut revoir des plans avant exécution, re-dessiner une répartition des pièces et des aménagements intérieurs pour une esthétique logique et pratique, meubler et décorer pour créer un intérieur intemporel qui ressemble au client et à son style de vie avant tout et qui respecte l'architecture et son environnement.
Muriel a des équipes très professionnelles d'artisans, couvrant tous les corps de métier, basées à Londres et en Normandie. Ceux-ci n'ont pas de limite géographique pour faciliter la maitrise d'ouvrage et un contrôle efficace et cohérent de l'exécution – les clients peuvent également décider de faire intervenir leurs propres entrepreneurs.
Instagram: murielchabernaud
SaveSave
SaveSave
SaveSave
SaveSave
SaveSave
SaveSave
SaveSave
SaveSave
SaveSave