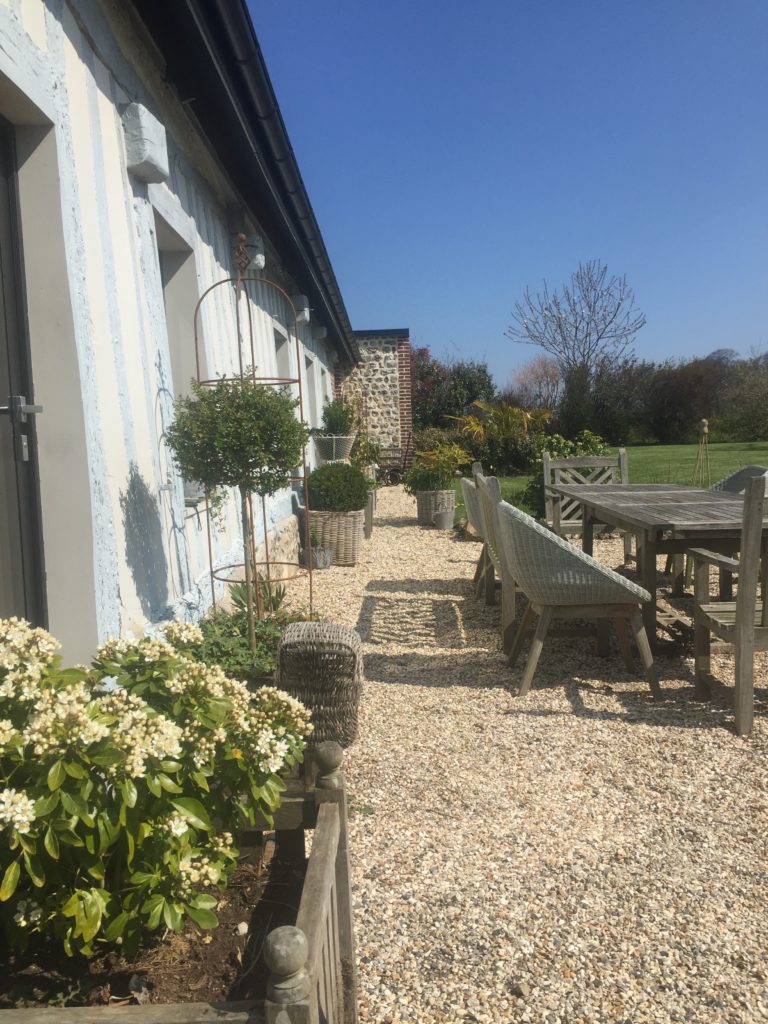 Muriel is committed to perfect her creative ideas and extend them to style your outside living space for you to enjoy an harmony between indoor and oudoor.
The styling of your garden, patio or terrace -this other room- ranges from redefining the layout, choosing plants and materials, to sourcing the furniture; all for the pleasure of the eye and the practicality in respect of the local environment and species so the garden becomes comfortable and looks good all year round.
Muriel will happily work with your local artisans or gardener and will pull out her resources so every aspect of the new outdoor living space is covered to include pots, antique garden features or contemporary garden elements that will fit with your lifestyle.
Muriel -designer d'intérieurs & d'exterieurs- s'engage a parfaire ses idées creatives et a les étendre a votre espace extérieur afin que vous puissiez profiter d'une harmonie dedans-dehors.
Le style de votre jardin, patio ou terrasse – cette pièce supplémentaire – va de la redéfinition de l'agencement, la selection des plantes et des matériaux au choix du mobilier; le tout pour le plaisir de l'œil, le côté pratique, dans le respect de l'environnement et des especes locales, de sorte que le jardin devienne confortable et soit plaisant toute l'année.
Muriel se fera un plaisir de travailler avec vos artisans locaux ou votre jardinier et mettra à profit ses ressources pour que tous les aspects du nouvel espace extérieur soient pris en compte en introduisant des poteries, des éléments architecturaux anciens ou contemporains… en accord avec votre style de vie.
MATERIALS USED FOR THIS PROJECT  –  MATERIAUX UTILISÉS POUR LA CREATION DE CE JARDIN:
SLATE, FLINT FROM DEMOLITION OF A HOUSE WALL, HAZELNUT BRANCHES, GRAVEL MIXED WITH SEASHELLS, PINE CONES, BRICKS RECLAIMED FROM FIREPLACE, MULCH.
ARDOISE, SILEX PROVENANT DE LA DEMOLITION D'UN MUR DE LA MAISON, BRANCHES DE NOISETIER, GRAVE D'ECOSSE MELANGEE AVEC DES COQUILLAGES, POMMES DE PIN, BRIQUES RECUPEREES DE L'ANCIENNE CHEMINEE, PAILLIS DE BOIS.
FURNITURE – MOBILIER:
ANTIQUE TECK FURNITURE, 1960's METAL FURNITURE IN THE MANNER OF MATEGOT, WEATHERPROOF WICKER WAGON, MADE TO MEASURE CUSHIONS (OUTDOOR FABRIC)
MOBILIER ANCIEN EN TECK, ENSEMBLE TABLE ET CHAISES DANS LE STYLE MATEGOT, CHARIOT EN OSIER SYNTHETIQUE, COUSSINS SUR MESURE (TISSU TRAITÉ EXTERIEUR)